1991, India. 120 min., Color, In Bengali with subtitles
Summary
Anila receives a letter from a man who claims to be her uncle. This uncle had disappeared 35 years ago. He is a stranger to the family and had been given up for dead. He has written to her about his desire to spend a few days with her. He arrives and stays over… The uncle, Manomohan Mitra (Utpal Dutt), claims to be an anthropologist. He has traveled through out the world. He claims to have visited the European continent, then the U.S. where he lived with the native Americans and wrote a book, "An Indian Among Indians". Later he went to South America where he spent time with the indigenous people. He now claims to be on his way to Australia to stay with the Aborigines.
Anila's husband is suspicious of the stranger. Driven by his suspicions, the family suspects that he might be an impostor who has come to claim the inheritance. So various kinds of tests are devised to find out the truth. The husband invites a lawyer friend to probe him. The uncle shows legal acumen when questioned by the lawyer…
The Anila's little son accepts the uncle from the beginning. Anila also gradually comes to accept him, but her husband can not understand this mysterious visitor. The uncle leaves as unexpectedly as he arrived, leaving some insightful observations…
Comments
This was the last film by Satyajit Ray. It is based on a short story he wrote many years before the making of the film. The comments by the uncle question the urban values… In a reply to a question posed by a probing friend of the husband – "What about cannibalism? Have you yourself had human flesh? Is this not the most barbaric, savage, uncivilized practice?", the uncle says, "No, I have not eaten human flesh, though I have heard that it has a certain taste. Yes, cannibalism is barbaric. But do you know what is even more barbaric and uncivilized? – The sight of homeless people and drug addicts in a city like New York. The ability of one civilization to vanquish others by the mere push of a button. That is a hundred times more barbaric!"
Though not among Ray's best, the film displays the master's command over the medium. The scenes of the uncle being interrogated by various characters present a rare insight into the urban values.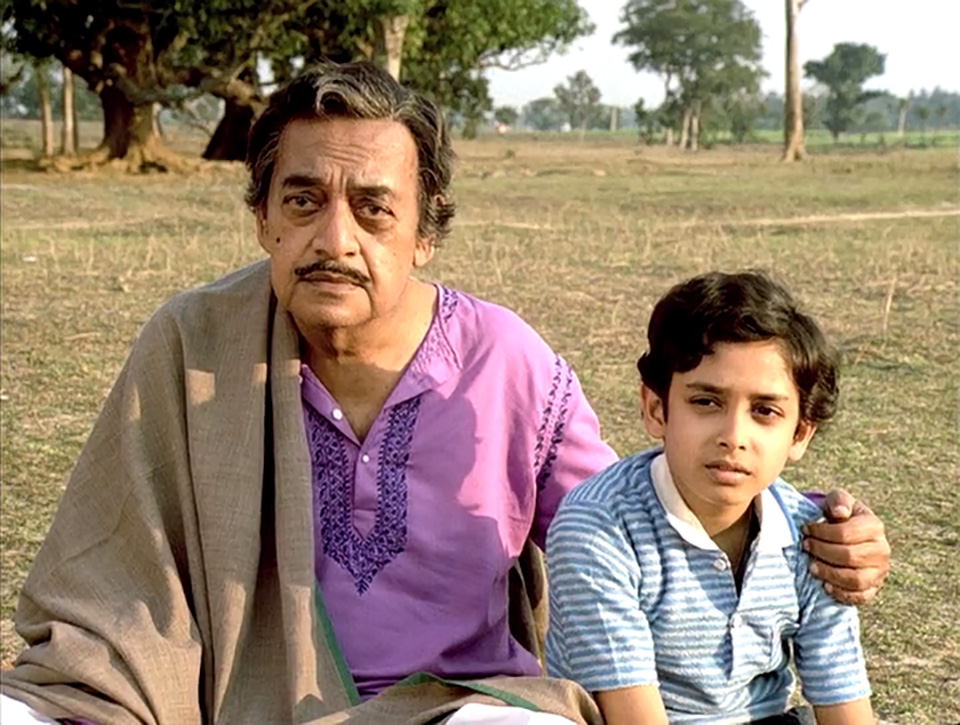 Nothing, it seems, can take away the old fire. Ray's eye for detail and the old magic of his genius can't let go of The Stranger, a tour-de-force. The camera is wielded like a conductor's baton as it strikes chords deep in the mind.
A graceful comedy made in a serene, classical style... we can still hear in its message the voice of a great artist!
a gentle, exquisitely realized comedy, beautifully observed, sweet and enriching!
One of Satyajit Ray's best.​
Awards
FIPRESCI Award, Venice, 1991
Best Film, New Delhi, 1991
Best Director, New Delhi, 1991
Credits

Producer:
National Film Development Corporation of India
Screenplay & Direction:
Satyajit Ray, Based on the short story: 'Atithi' by Satyajit Ray
Cinematography:
Barun Raha
Editing:
Dulal Dutta
Art Direction:
Ashoke Bose
Sound:
Sujit Sarkar
Music:
Satyajit Ray
Songs:
S. Banerjee
Distributed on video:
First Run Features

Cast

Manomohan Mitra:
Utpal Dutt
Anila Bose:
Mamata Shankar
Subindra Bose:
Deepankar De
Ranjan Rakshit:
Rabi Ghosh
Chanda Rakshit:
Subrata Chatterjee
Prithwish Sen Gupt, the lawyer:
Dhritiman Chatterjee
Satyaji:
Bikram Bannerjee
Tridib Mukherjee:
Promod Ganguli
Sital Sarkar:
Ajit Banerjee