Apur Sansar (The World of Apu)
1959, India. 106 min, B/W, In Bengali with subtitles.
Summary
Apur Sansar is the third and final film of the The Apu Trilogy. Apu (Soumitra Chatterjee) is now a graduate and without a job. He lives in a rented room next to a busy railway yard. He finds himself among a large population of the unemployed youth in the city. To pay his rent, he has to sell his books. The job search turns out to be an amusing and a tormenting experience.
Unfazed, He is writing a novel based on his life, which he hopes will make him famous. His life takes a turn, however, when he meets his old friend Pulu. He coerces Apu to travel to his ancestral village to attend the wedding of his cousin, Aparna (Sharmila Tagore). On the boat ride to the village Pulu reads Apu's manuscript and appreciates the work.
On the day of the wedding, the bridegroom turns out to be mentally deranged and the wedding is canceled. The villagers believe if she is not married before the auspicious hour passes, the ill-fated bride can never be married again. Apu primarily of out sympathy for the bride and some convincing by Pulu, agrees to be the substitute groom. He has not even seen her yet.
The marriage takes place and Apu and his young wife return to his Calcutta apartment. Soon, a warm and caring relationship develops. Apu willingly takes up the clerical job that he has so far avoided. The marital bliss, however, is short lived.
Aparna becomes pregnant, and she goes to her parents' place for childbirth. She dies during the childbirth. Apu's world shatters as he receives the news of Aparna's death. Sunken in grief, he refuses to even see the child whom he holds responsible for his wife's death. He leaves Calcutta to lead the life of a wanderer.
About five years pass, Apu's friend Pulu, who had been abroad, is shocked to find the child growing wild and not cared for. Pulu goes in search of Apu and requests to take responsibility for his son, Kajal.
Reluctantly, Apu comes back to the village. On seeing Kajal, Apu is overwhelmed by affection. Now it is the child who refuses to accept him as his father. Apu wins over the little boy. The child accepts him as a friend, though not as a father yet. United, they leave for Calcutta to make a new beginning.
Comments
In Apur Sansar, Ray introduced two new actors who would become regulars for Ray films, Soumitra Chatterjee played Apu and Sharmila Tagore played his young wife Aparna. By way of experience, Soumitra Chatterjee was a radio announcer and had only played a small role in a Bengali stage production and Sharmila was just a fourteen-year-old with no previous acting experience. As the shooting began, Ray had to shout instructions to Sharmila during the takes. None of this, however, is reflected on the screen. Both tuned out be quick learners and gave memorable performances.
Soumitra Chatterjee played many roles in Ray's later films (15 films) and became the most sought after actor in Bengali cinema. Sharmila Tagore went on to become a very successful actress in Bombay's Hindi films. She returned to work in later films of Ray such as Devi, Nayak, Aranyer Din Ratri and Seemabaddha.
The sequences of Apu and Aparna in Calcutta, are the most striking and cinematic part of the film. In the beginning of the film, we have seen Apu's room as a bachelor's apartment. Now there are two pillows on the bed, curtains on the windows and a plant on the windowsill. The apartment has a clear touch of a woman's presence. Apu awakes and finds a hairpin lying between the pillows. Still lying in the bed, Apu observes Aparna with a fixed gaze as she goes about doing the household chores. Aparna asks, "Haven't you seen your wife before?" Apu smiles, plays with the hairpin and picks up his pack of cigarettes. As he opens the pack, he finds a note from Aparna inside, "You promised not to smoke more than one after meals!" Apu smiles again and puts the pack away. With simple actions and situation, the intimacy is established. After seeing the film, Renoir is said to have remarked that intimacy had been suggested without showing even a single embrace.
Later in the film, Aparna is leaving to be at her parents' place for childbirth. She lights a match to light the cigarette that Apu has put in his mouth. The flame brings a glow to her face. Apu asks, "what is in your eyes?" "Kajal" (mascara / kohl), she replies with a mischief. Lather, the son born to her would also be named "Kajal".Aparna dies off-screen. Her brother brings the bad news. This is a lyrical and inspired sequence. Apu is working and carrying Aparna's letter in his pocket. Towards the end of the day, he can no longer wait to read the letter. A touching letter is heard in Aparna's voice. Apu in interrupted by a fellow clerk.
He takes out the letter again to continue reading on his way home in a crowded tram. A passenger peeps over his shoulders to read, forcing him to put the letter back again. He finishes reading the letter during the walk home by the railway yard. With Aparna's voice still in his mind, he sees her brother waiting for him. Apu's smile vanishes; he senses something wrong. As Aparna's brother conveys the news of her death, Apu looses control. His world is shattered. He slaps the messenger, staggers to his room and collapses on the bed.
What follows is a long, wonderful and speechless sequence; dealing with Apu's grief. Satyajit Ray describes in 'My Years with Apu' – "The grief-stricken Apu lies in bed for days. … At one point, however, Apu rises from the bed. He hasn't got over his grief. He stands leaning against the wall. The camera moves to the shaving mirror to show his blank look. Off screen is heard the screech of a train whistle. Apu reacts. The camera moves closer to his face. His eyes have a new look. The screen turns white. There is the sound of a rushing train and smoke rises from the bottom of the screen in what is now established as sky. The camera moves back to show Apu in close up, obviously standing by the railway track. The smoke approaches, then we see the engine. Apu, his face still a blank, slowly leans forward, preparing to throw himself before the train. Suddenly, a screech is heard. It is the cry of a pig, which has been run over by the train. Apu's spell is broken and with it his determination to take his own life.
In he final moments of the film, Kajal has rejected Apu. When Apu's father-in-law is about to strike Kajal with a stick because he has refused to leave with Apu, Apu rescues Kajal instinctively. A hint of trust begins to develop. Apu starts to walk away as he has given up hope of earning Kajal's love. But Kajal has now decided to trust Apu. He runs away to join Apu as grandfather watches from a distance. Apu sweeps up Kajal in his arms. Both leave for a new life together with Apu carrying Kajal on his shoulders. Apur Sansar was a big box office success both at home and abroad.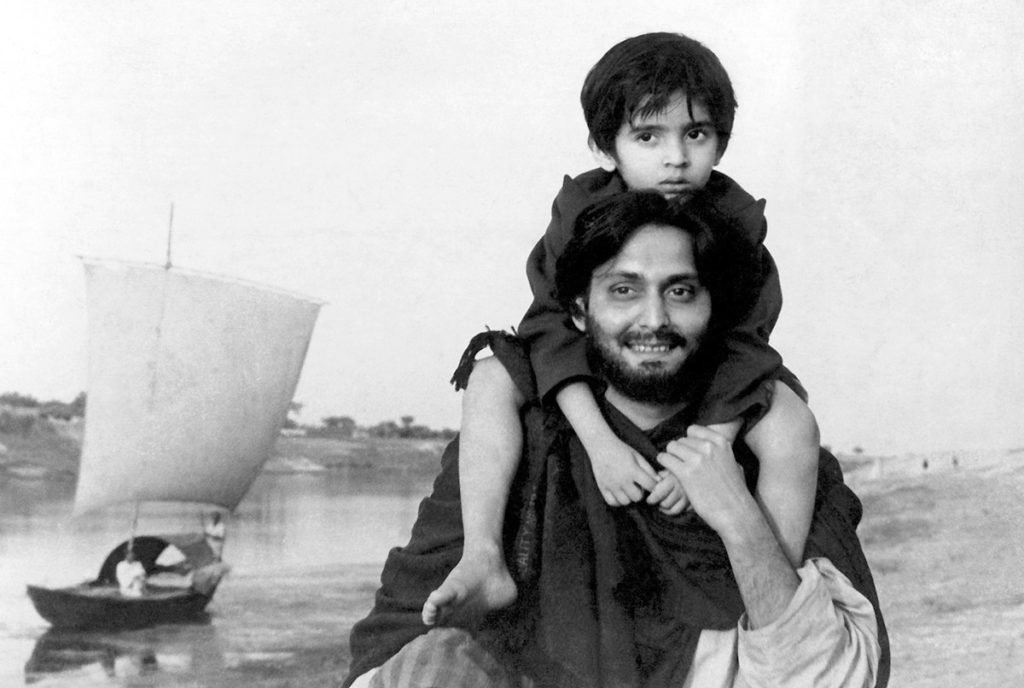 Rich and contemplative, and a great, convincing affirmation.
Awards
President's Gold Medal, New Delhi, 1959
Sutherland Award for Best Original And Imaginative Film, London, 1960
Diploma Of Merit, 14th International Film festival, Edinburgh, 1960
Best Foreign Film, National Board of Review of Motion Pictures, USA, 1960
| | |
| --- | --- |
| Credits | |
| Producer: | Satyajit Ray Productions |
| Screenplay & Direction: | Satyajit Ray; based on the novel "Aparajita" by Bibhutibhushan Banerjee. |
| Cinematography: | Subrata Mitra |
| Editing: | Dulal Dutta |
| Art Direction: | Bansi Chandragupta |
| Sound: | Durgadas Mitra |
| Music: | Pandit Ravi Shankar |
| U.S. Distributor: | Merchant-Ivory/Sony Pictures Classics |
| Cast | |
| Apu, Apurba Kumar Roy: | Soumitra Chatterjee |
| Aparna: | Sharmila Tagore |
| Pulu: | Swapan Mukherjee |
| Kajal: | Alok Chakravarty |
| Pulu's wife: | Sefalika Devi |
| Sasinarayan: | Dhiresh Majumdar |
| Landlord: | Dhiren Ghosh |