A Brief Introduction to Satyajit Ray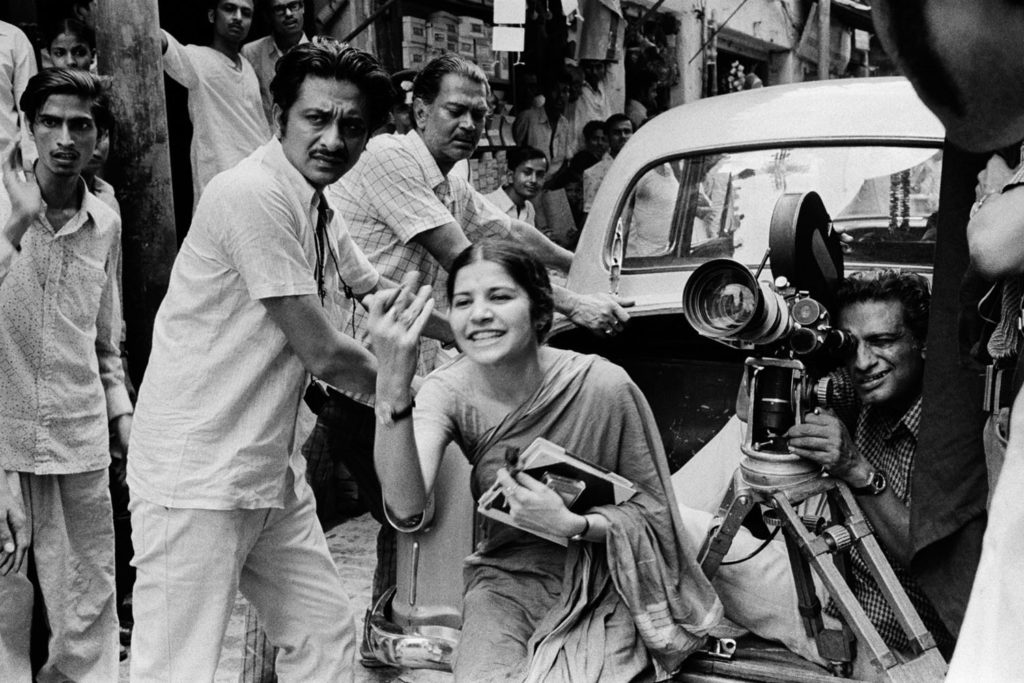 The quiet but deep observation, understanding and love of the human race, which are characteristic of all his films, have impressed me greatly. ...I feel that he is a "giant" of the movie industry.
Satyajit Ray, an Indian filmmaker and among the dozen or so great masters of world cinema, is known for his humanistic approach to cinema. He made his films in Bengali, a language spoken in the eastern state of India – West Bengal. And yet, his films are of universal interest. They are about things that make up the human race – relationships, emotions, struggle, conflicts, joys and sorrows.
The Master Storyteller
Satyajit Ray, the master storyteller, has left a cinematic heritage that belongs as much to India as to the world. His films demonstrate a remarkable humanism, elaborate observation and subtle handling of characters and situations. The cinema of Satyajit Ray is a rare blend of intellect and emotions. He is controlled, precise, meticulous, and yet, evokes deep emotional response from the audience. His films depict a fine sensitivity without using melodrama or dramatic excesses. He evolved a cinematic style that is almost invisible. He strongly believed – "The best technique is the one that's not noticeable".
Though initially inspired by the neo-realist tradition, his cinema belongs not to a specific category or style but a timeless meta-genre of a style of story telling that touches the audience in some way. His films belong to a meta-genre that includes the works of Akira Kurosawa, Alfred Hitchcock, Charles Chaplin, David Lean, Federico Fellini, Fritz Lang, John Ford, Ingmar Bergman, Jean Renoir, Luis Bunuel, Yasujiro Ozu, Ritwik Ghatak and Robert Bresson. All very different in style and content, and yet creators of cinema that is timeless and universal.
Impressive Oeuvre
Satyajit Ray's films are both cinematic and literary at the same time; using a simple narrative, usually in a classical format, but greatly detailed and operating at many levels of interpretation.
His first film, Pather Panchali (Song of the little road, 1955) established his reputation as a major film director, winning numerous awards including Best Human Document, Cannes, 1956 and Best Film, Vancouver, 1958. It is the first film of a trilogy – The Apu Trilogy – a three-part tale of a boy's life from birth through manhood. The other two films of this trilogy are Aparajito (The Unvanquished, 1956) and Apur Sansar (The World of Apu, 1959).
His later films include Jalsaghar (The Music Room, 1958), Devi (The Goddess, 1960), Teen Kanya (Two Daughters, 1961), Charulata (The Lonely Wife, 1964), Nayak (The Hero, 1966), Ashani Sanket (Distant Thunder, 1973), Shatranj Ke Khilari (The Chess Players, 1977), Ghare Baire (The Home and the World, 1984), Ganashatru (An Enemy Of The People, 1989) and Shakha Prashakha (Branches Of The Tree, 1991). Agantuk (The Stranger, 1991) was his last film.
True Auteur
Ray directly controlled many aspects of filmmaking. He wrote all the screenplays of his films, many of which were based on his own stories.
He designed the sets and costumes, operated the camera since Charulata (1964), he composed the music for all his films since 1961 and designed the publicity posters for his new releases.
In addition to filmmaking, Ray was a composer, a writer and a graphic designer. He even designed a new typeface. In 1961, he revived and continued to publish the Bengali children's magazine "Sandesh", which was founded by his grandfather Upendrakishore Ray .