Charulata (The Lonely Wife)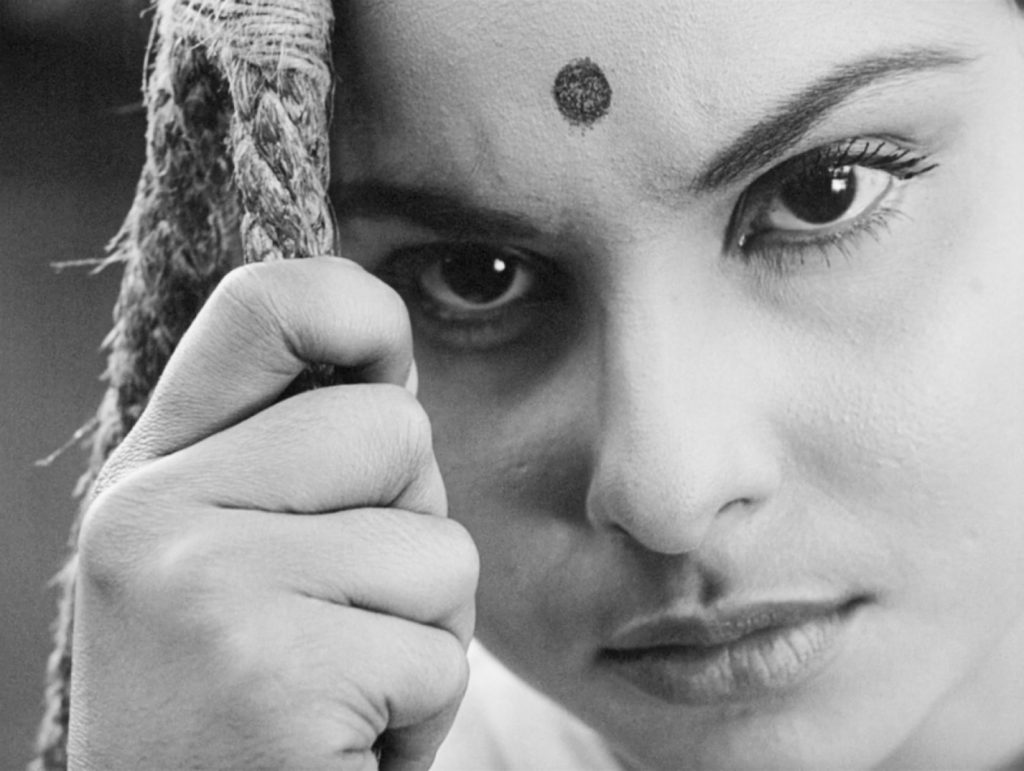 1964, India. 117 min, B/W, In Bengali with subtitles.
Summary
Charulata is based on a story by Rabindranath Tagore, Nastanirh (The broken Nest) and set in Calcutta in the late nineteenth century. Bengal Renaissance is at its peak and India is under the British rule. The film revolves around Charulata / Charu (Madhabi Mukherjee), the childless, intelligent and beautiful wife of Bhupati (Sailen Mukherjee). He edits and publishes a political newspaper. Bhupati is an upper class Bengali intellectual with a keen interest in politics and the freedom movement.
Charu is interested in the arts, literature and poetry. Though Bhupati loves his wife, he has no time for her. She has little to do in the house run by a fleet of servants. Sensing her boredom, Bhupati invites Charu's elder brother Umapada and wife Manda to live with them. Umapada helps in running of the magazine and the printing press. Manda with her silly and crude ways is no company for the sensitive and intelligent Charulata.
Amal (Soumitra Chatterjee), Bhupati's younger cousin comes on a visit. Bhupati asks him to encourage Charu's cultural interests. Amal is young, handsome and is of the same age group as Charu. He has literary ambitions and shares her interests in poetry. He provides her with much needed intellectual companionship and attention. An intimate relationship develops between Charulata and Amal. There is a hint of rivalry when she publishes a short story on her own without his knowledge. He realizes that Charulata is in love with him but is reluctant to reciprocate due to the guilt involved.
Meanwhile, Charu's brother and sister-in-law who were guests in the house swindle Bhupati of his money and run away. It destroys Bhupati's newspaper and the press. The episode shatters Bhupati who admits his hurt to Amal. He tells Amal that now Amal is the only one he can trust.
Amal is overcome with guilt of betraying his cousin. He is also uncomfortable with Charu's higher intellect that he has helped nurture. He leaves unannounced, to marry and go away to England for higher studies. He leaves behind a letter to Charu.
Charu is heartbroken but hides her disappointment. Bhupati accidentally enters her room and finds her crying over Amal. Bhupati realizes Charu's feelings for Amal. He is broken, shocked and bewildered by it.
He rushes out of the house, wanders aimlessly in his carriage. On his return, Charu and Bhupati make a hesitant gesture to reach out, but their extended hands remain frozen in a tentative gesture.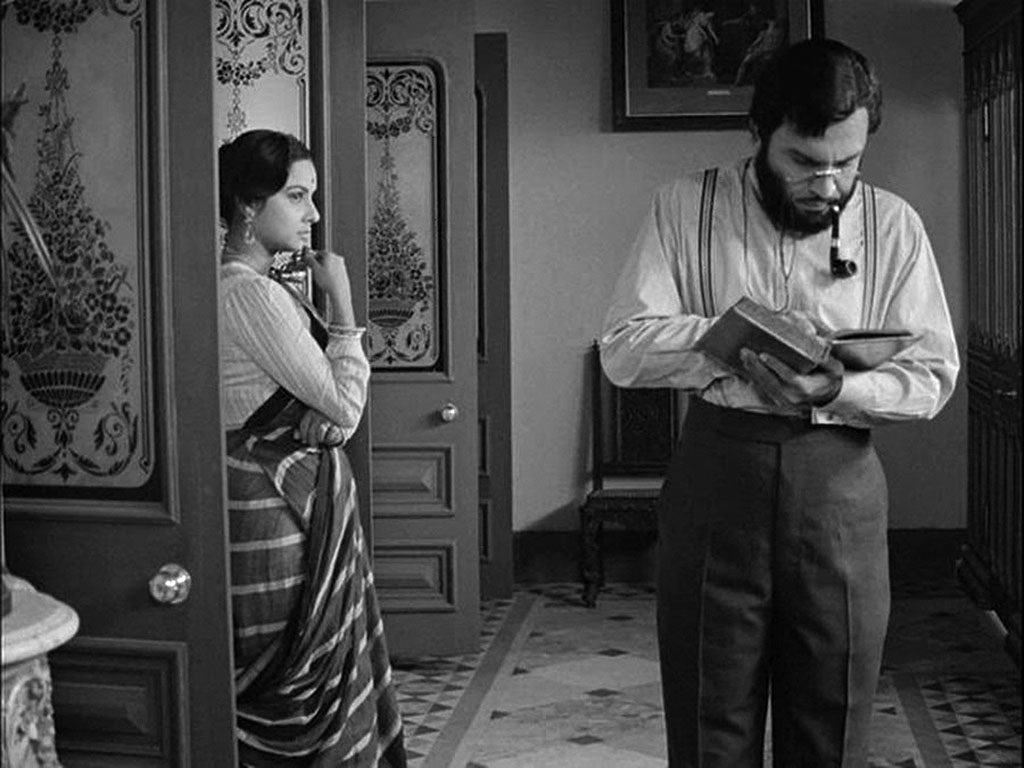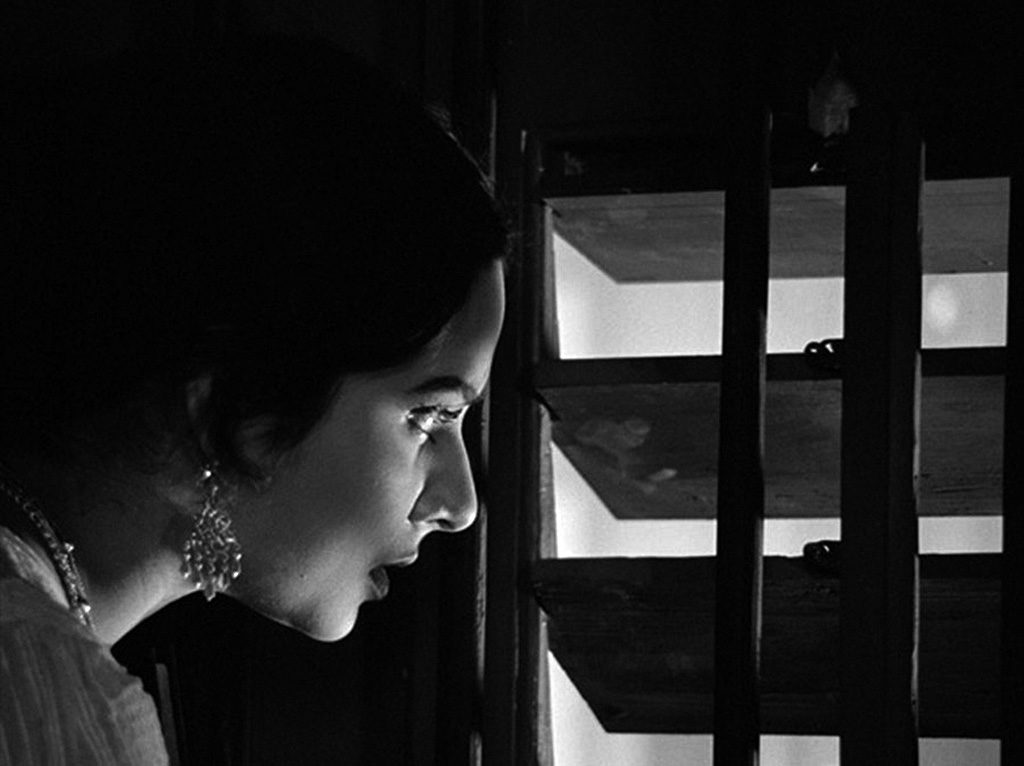 Comments
Charulata (The Lonely Wife) was Ray's twelfth feature film. It was also the director's favorite. Ray described the film as the one which has the least defects. In an interview with 'Cineaste' magazine, when asked about his most satisfying film, Ray said, "Well, the one film that I would make the same way, if I had to do it again, is Charulata."
Certain details, such as references to and use of Bankim Chandra Chatterjee the most popular Bengali novelist of the period, bits of songs, literary allusions, etc. may be missed by the western audience. But the film works on many levels and like most Ray films, Charulata is universal in its appeal.
In Charulata as in Ghare Baire (The Home and the World, 1984), Satyajit Ray explores the emergence of the modern woman in the upper-class of colonial India. One can not help drawing parallels with Ibsen's A Doll's House.
The context is suggested by important details. The opening sequence is a piece of cinematic poetry. We see the young wife Charulata moving from one window to another in her house. She observes the activities of the outside world through the window blinds using opera glasses. She is like a caged bird in her mansion. We sense her curiosity and desire to know the outside world.
As she moves to the interior corridor of the house, we see her intellectual husband. He is too engrossed in a book and walks past her without even noticing her presence. She watches him as he walks away and stands reading. Charu raises her opera glasses and looks again as if he too belongs to the outside world. As Bhupati disappears from the view, she is expressionless and lets the opera glasses slip down. The camera is pulled back sharply, "like a flourish with a pen at the end of an essay …" in Ray's words. Without a dialogue being spoken, we know Charulata is condemned to her loneliness and boredom.
Ray conveys the innermost feelings and thoughts of his characters without any dazzling technique and with minimal dialog. An another wonderful sequence is the swing sequence in the garden. In this scene Charu, who has been resisting her feelings for Amal, gives in and admits her love to herself. It is about eight-minute long sequence with almost no dialogue. With innovative camera and narrative style, Ray depicts Charu's state of mind and her dilemma.
In the final sequence, as Bhupati returns home after wandering aimlessly, Charu opens the door. Gently and with hesitation, she asks him to enter. A wavering Bhupati enters the door and reaches toward her hand. The shot is frozen and is followed with still images of Charu's half-lit face, Bhupati's half-lit face, a servant holding a lamp, a mid-shot of Charu and Bhupati and finally a long-shot of them. As the music rises the words "Nastanirh" (Bengali, The Broken Nest) fill the screen. It was ray's cinematic answer to Tagore's original ending in which Bhupati has to go out of town and Charu asks him to take her with him. He hesitates to which Charu says "Thak" meaning "Let it be". As Ray explained later, it was his visual equivalent of the word "Thak". "The two are about to reconcile and then prevented from doing so."
All the interiors were shot in studio. The sets are meticulously researched and detailed to create an authentic atmosphere. All the three major characters – Charulata played by Madhabi, Amal played Soumitra Chatterjee and Bhupati played by Sailen Mukherjee – have performed brilliantly.
Madhabi Mukherjee appeared in two other films of Ray: Mahanagar (The Big City, 1963) and Kapurush. (The Coward, 1965).
The film has an understated background score by Satyajit Ray.
What others say
...The interplay of sophistication and simplicity is extraordinary.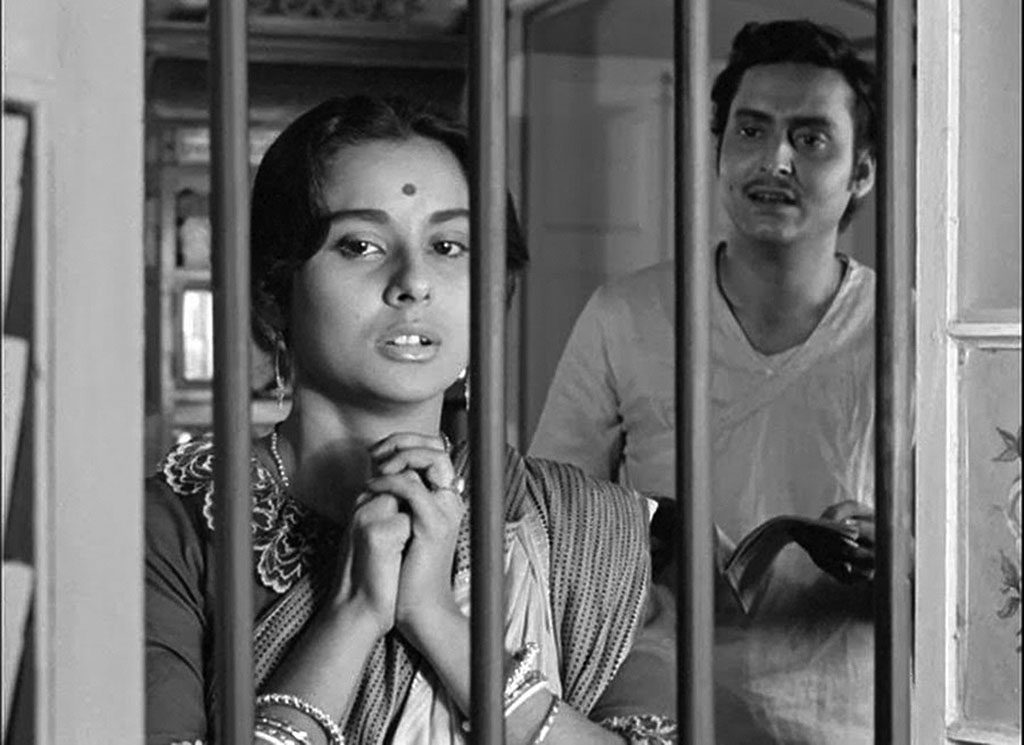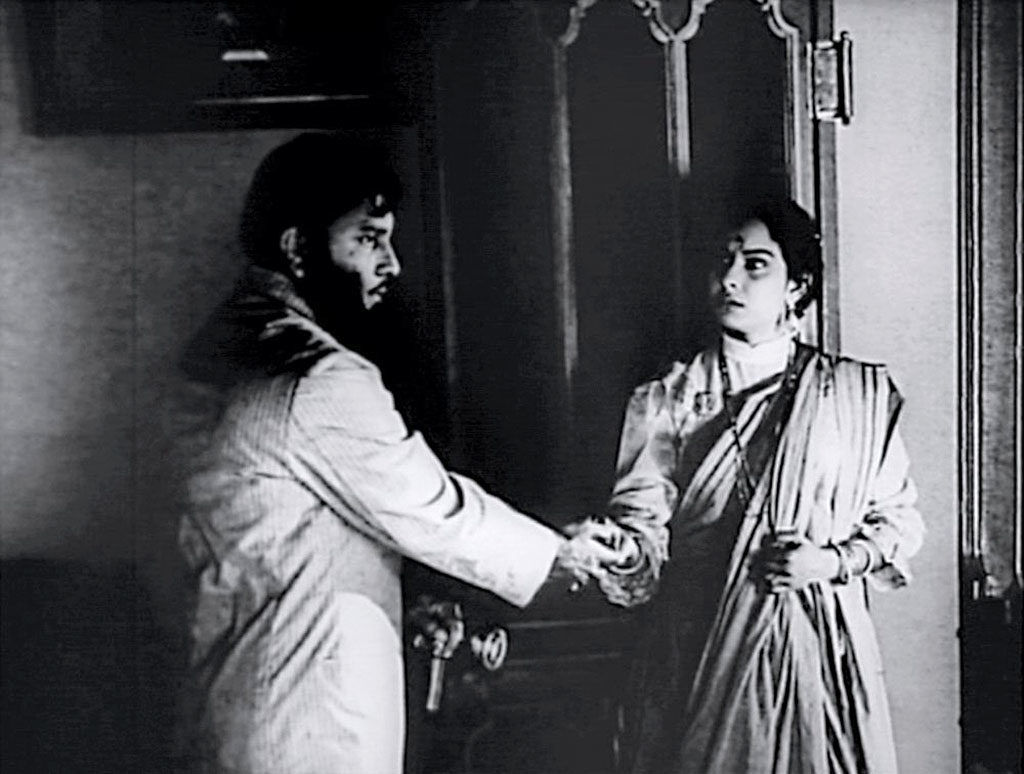 Awards
President's Gold Medal, New Delhi, 1964
Silver Bear For Best Direction, Berlin, 1965
Catholic Award, Berlin, 1965
Best Film, Acapulco, 1965
Credits

Producer:
RDB & Co (R.D. Bansal / (RDB Productions)
Screenplay & Direction:
Satyajit Ray form the short novel "Nastanirh" by Rabindranath Tagore
Cinematography:
Subrata Mitra
Editing:
Dulal Dutta
Art Direction:
Bansi Chandragupta
Sound:
Nripen Pal, Atul Chatterjee, Sujit Sarkar
Music:
Satyajit Ray
 
 

Cast

 
Character:
Performer
Charulata (Charu):
Madhabi Mukherjee
Amal:
Soumitra Chatterjee
Bhupati:
Sailen Mukherjee
Umapada:
Syamal Ghosal
Mandakini (Manda):
Gitali Roy
Braja:
Bholanath Koyal
Nisikanta:
Suku Mukherjee
Sasanka:
Dilip Bose