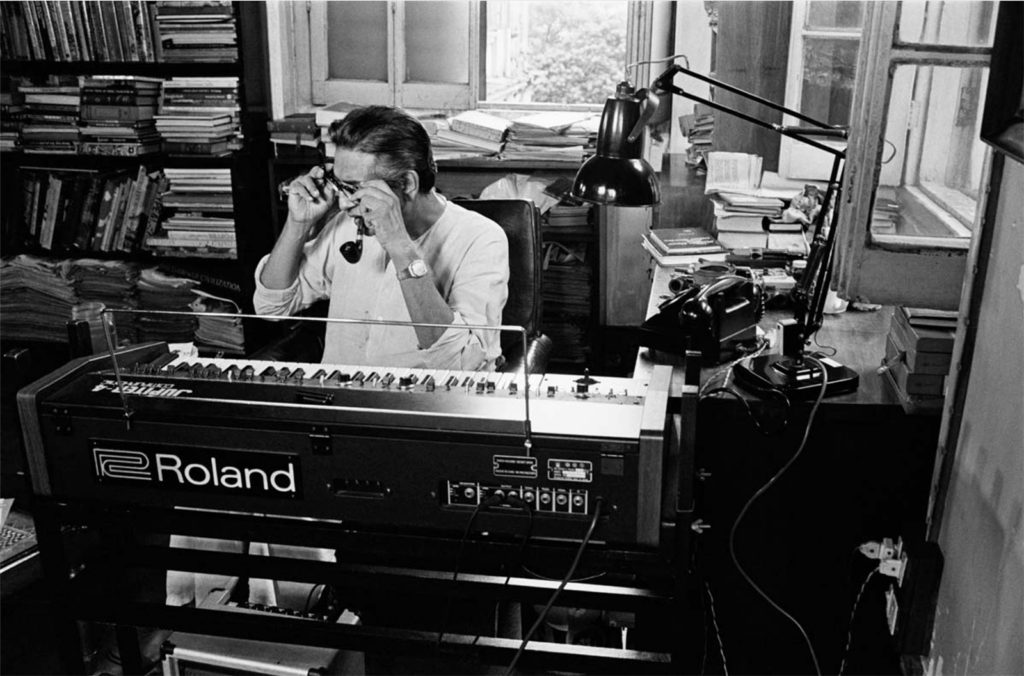 In the beginning of his career Ray worked with some of greatest music maestros of Indian classical music; Pandit Ravi Shankar for the Apu Trilogy and Parash Pathar (The Philosopher's Stone, 1958, Ustad Vilayat Khan for Jalsaghar (The Music Room, 1958) and Ali Akbar Khan for Devi(The Goddess, 1960).Since Teen Kanya (1961), he began composing the music for his films. "The reason why I do not work with professional composers any more is that I get too many musical ideas of my own, and composers, understandably enough, resent being guided too much", he said.

He would start working on music in very early stages of a production – sometimes as early as in the script stage. He would keep notes of the music ideas as they evolved. After completing the final edit, he would usually shut himself in his study for several days to compose the music. He meticulously wrote the scores in either Indian or western notation depending on musicians.

"… the pleasure of finding out that the music sounds as you had imagined it would, more that compensates for the hard work that goes into it. The final pleasure, of course, is in finding out that it not only sounds right but is also right for the scene for which it was meant". he wrote.

To him the role of music was to make things simpler for the audience. "If I were the only audience, I wouldn't be using music! … I have always felt that music is really an extraneous element, that one should be able to do without it, express oneself without it", he said.

He experimented with mixing western and Indian elements in his scores. He composed a background music that belonged a particular film rather than to any recognisable tradition. In Ghare-Baire (Home and the World, 1984), he adapted western music elements along with Indian ones to complement the two influences on the characters of film.