Ghare-Baire (Home and the World)
1984, India. 140 min., Color, In Bengali with subtitles
Summary
1905. Winter. Bengal, India. The period of British rule in India. Following the 'divide-and-rule' policy, Lord Curzon has decided to partition Bengal; one for Hindus and another for Muslims. The people launch a nationalist movement – Swadeshi, appealing for a boycott of foreign-made goods. The movement is symbolised by public burning of foreign-made goods, mainly the British textiles. 
Bimala (Swatilekha Chatterjee) is the wife of a landlord-king Nikhil (Victor Banerjee) who has had a Western education in England and has liberal views. She is content to live in seclusion of her inner apartments and has no desire break the custom to explore the outside world. Nikhil is the only man she has ever interacted with. She met him first on their wedding day. 
Nikhil wants her to come out of Purdah into the outside world. They share a loving relationship, but he convinces her that he will never know if she really loves him unless she has opportunity to meet others and prefer him over other men. 
At his coaxing, she begins to take lessons from an English governess, and takes the symbolic walk down the corridor to the outside world for the first time. 
Nikhil introduces her to his radical friend Sandip (Soumitra Chatterjee). Sandip is a charismatic nationalist leader, staying as a guest in the palace. He is leading the boycott of foreign made goods, but his ire seems to be directed against traders who sell imported goods who are mostly Muslims. 
Sandip overwhelms Bimala. He is a contrast to her quiet, reasonable and passive husband. Sandip is also a Parasite, borrowing money from Nikhil to sustain his lavish life style while leading the Swadeshi movement. 
Soon it becomes apparent to Nikhil that the two of them are in love. Bimala even takes her husband's money to finance Sandip's taste for the first-class travel. And all this time Nikhil stands-by, letting Sandip stay in his palace. He does nothing even though he is opposed to Sandip's ideas, being aware that the traders in foreign goods are mostly poor Muslims and the boycott will further divide the two communities… For, Bimala has to find out the duplicity of Sandip's motives and behaviour by herself.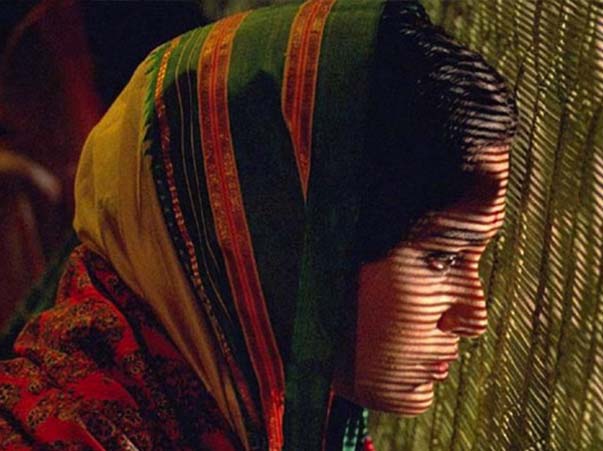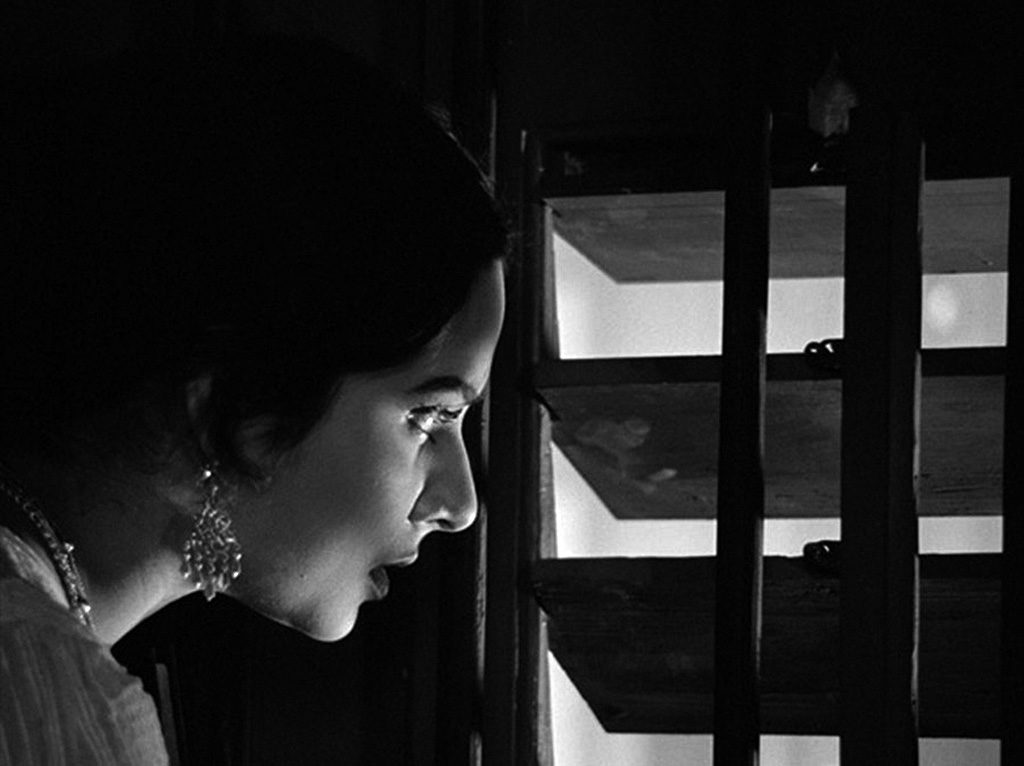 Comments
Ghare-Baire is adapted from a Rabindranath Tagore novel by the same title. The novel is based on Tagore's own experiences as a Swadeshi leader. During this period, Tagore composed many songs for the cause. Sandip sings one such song in the film.Central to the film is the changing character of Bimala. She moves from total seclusion to acting recklessly with courage. Like in Charulata (The Lonely Wife, 1964), Ray explores the emergence of the modern woman by moving away from the traditional expectations.
In comparison with Charulata, though, Ghare-Baire lacks the cinematic poetry. It is very verbal instead. And yet these lengthy scenes of conversations generate a spark.
Sandip, the radical leader, is played by Soumitra Chatterjee, a Ray regular, and the husband Nikhil played by Victor Banerjee (Prime Minister in Ray's Satranj Ke Khilari; Dr. Aziz in David Lean's "A Passage to India. ").
... the main characters talk, and the camera just stays on them and waits until they finish, yet these conversations in golden light and shadows have their own kind of voltage.
Awards
Best Bengali Film, New Delhi, 1984
Best Costume design, New Delhi, 1984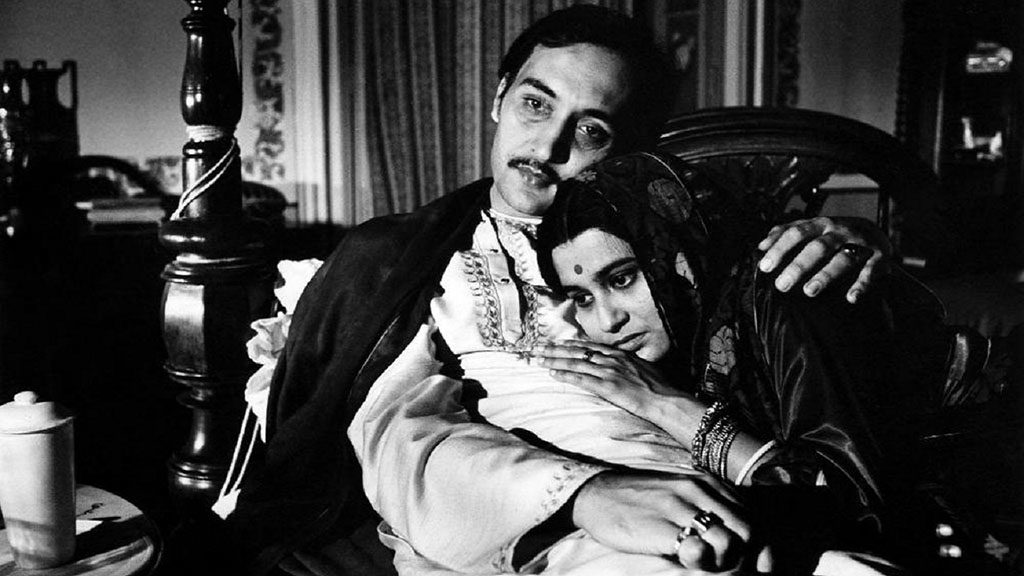 | | |
| --- | --- |
| Credits | |
| Producer: | NFDC, National Film Development Corporation of India |
| Screenplay & Direction: | Satyajit Ray, Based on the novel "Ghare Baire" by Rabindranath Tagore |
| Cinematography: | Soumendu Roy |
| Editing: | Dulal Dutta |
| Art Direction: | Ashoke Bose |
| Sound: | Robin Sen Gupta, Jyoti Chatterjee, Anup Mukherjee |
| Music: | Satyajit Ray |
| Cast | |
| Sandip Mukherjee: | Soumitra Chatterjee |
| Nikhilesh Choudhury (Nikhil): | Victor Banerjee |
| Bimala Choudhury: | Swatilekha Chatterjee |
| Headmaster: | Manoj Mitra |
| Amulya: | Indrapramit Roy |
| Kulada: | Bimala Chatterjee |
| Miss Gilby, English governess: | Jennifer Kapoor |
| Nikhil's sister-in-law: | Gopa Aich |